NEWS

50% off all training plans!

03/20/2018
For a limited time, all training plans are 50% off. See "Training Plans" tab for a full listing of all training plans. Get ready to race!
Website now back up and running

04/16/2015
My website was down for the last few days due to technical difficulties. It is now back up and running and fully functional. Sorry for the inconvenience. Enjoy! Chris.
These are a few of my favorite races...

02/08/2015
People often ask me what my favorite mountain bike races are. I think they are looking for tips for their upcoming race season. So, here are some of my favorites. Base you season around some of these and you can't go wrong. Start with the NUE series (www.nuemtb.com). The best series of endurance mountain bike races in the county (probably the world). Another great 100 miler that is not currently part of the NUE, but probably will be soon, is my backyard race, the Patapsco 100 on July 5 (www.adventuresforthecure.com). I think this is the toughest 100 miler in the country. The constant steep up and down technical trails are soul crushing. Be sure to throw in a mountain bike stage race or two. They bring such a sense of adventure and camaraderie. Some of my favorites are: BC Bike Race, British Columbia, June 27 to July 4 (www.bcbikerace.com) Transylvania Epic, Central PA, May 24 to May 30 (www.outdoorexperience.org/tse) And of course, give it a go at a 24 Hour Race, either solo or team relay. If you are going to do something this big, you may as well go for the world championships. This year it's in Weaverville, CA on October 3 and 4 (www.teambigfoot.net/Wembo15.htm). Lots of miles and lots of smiles in this list. Time to get training…
Congratulations Laureen!

08/13/2014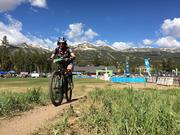 Congratulations to Laureen Coffelt for her fantastic 3rd place finish in the Women's pro race at Breck 100. I have been coaching Laureen for several seasons and am continuously impressed with her amazing progress. Laureen, you are truly rising into the top ranks of endurance mountain bike racing. I am so proud of you! Keep up the good work. Chris.
Patapsco Epic - my next big ride

07/13/2014

I can't wait for the Patapsco Epic ride on August 10. What could be better than riding for 5 or 6 hours on my favorite home trails with a bunch of mountain bike friends? Join us for a day of singletrack riding on some of the best trails around. https://www.bikereg.com/23052
NUE Series, raring to go in 2014

01/08/2014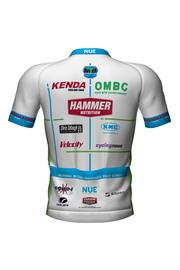 The NUE Series gets better every year. It's the best endurance mountain bike race series in the nation and this year it includes 13 challenging 100 milers. Races can be found from coast to coast and everywhere in between. Go here to select your races: http://nuemtb.com/, then choose your training plans from here: http://chriseatough.com/?page=plans Now is the time to make your race preparations for 2014. Work hard and earn your own NUE jersey!
Gearing up for 2014

01/01/2014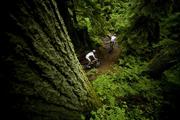 Happy New Year! This is a great time to set goals for 2014 and start working towards them every day! Whatever your goals might be, good luck! Chris.
25% off winter training plan for the month of December

12/02/2013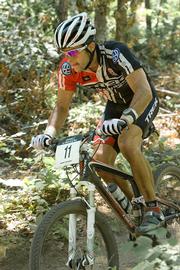 Celebrate the holidays with a winter training plan from Chris Eatough Coaching! My 20-week winter training plan is 25 percent off throughout December. And, the first five people to buy this discounted plan get a free Chris Eatough Coaching t-shirt. The winter plan will have you race ready for 2014. (It also makes a great last-minute gift.) Visit my Training Plans page for more info and to purchase. Happy holidays!
First Race in a while, Patapsco 100

07/08/2013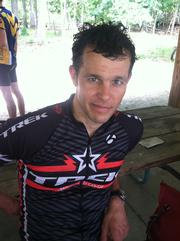 I jumped back into the race scene yesterday for the Patapsco 100 race. This is a new event on my home town trails, and it's going to be an instant classic. I raced the 66 mile duo category with my good friend Cheryl Sornson. I love the duo category, but it's critical to pick your teammate carefully. Thankfully, Cheryl was the perfect teammate, we had a blast and we won! The Patapsco 100 is going to get a reputation as the toughest one-day mountain bike race in the country. Almost the whole course is technical, steep, challenging singletrack, and it's a huge achievement to even finish the 100 miler. Only a few people accomplished this the first year and I think people will flock from all over to take it on next year. See you there! Great post-race interviews here: http://dirtwire.tv/events/patapsco-100/
Why the NUE Series is the best mountain bike endurance series in the country

02/18/2013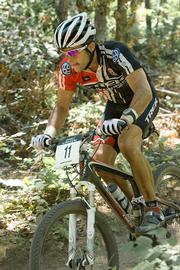 Through all my years of mountain bike racing, the NUE is my favorite series. I have strapped a NUE number plate onto my bike many times, and every single one was filled with trepidation and excitement and took me to my physical and mental limits. Read more about why here: http://nuemtb.com/info/training-for-an-nue To provide training support and tips, and to provide access to my NUE knowledge and experience, I have created several training plans for 100 mile races. They are available for purchase here: http://www.chriseatough.com/?page=plans. You will find specific plans for the Cohutta, Mohican, Lumberjack, High Cascades, Wilderness and Shenandoah races. The general 100 miler plan works well for any 100 mile mountain bike race. These plans will help you prepare properly and arrive at the race with your best possible fitness.
Winter Training Time

11/18/2011
Winter is approaching in these parts. I just went through my bike clothing last night to pull out the leg warmers, jackets, thick gloves, and shoe covers. Adjusting to the cold snap and frozen trails takes a few rides, but after that I actually enjoy the change of season and conditions. It's also an important time to build strength and fitness for next season. The miles you bank in the winter are the funds that you will have to draw from in 2012. Quantity and quality both matter, so think carefully about how you plan, manage and execute your off season training. If you are looking for a framework on how to lay out your training over the next few months, check out my 20 Week Winter Training Plan here: http://chriseatough.com/?page=plans. Lots of useful info, including a recommended workout every day, an alternate workout for bad weather, core training guidelines and a large selection of lively indoor trainer workouts. A perfect holiday gift for the mountain biker that you know (or just give yourself the gift of fitness).
MoCo Epic, my next adventure...

09/16/2011
I am very much looking forward to my next mountain bike adventure, the MoCo Epic on October 16. This is a fairly new event that explores many of the trails and parks of Montgomery County, Maryland. It's especially exciting for me since I know very little about these trails, despite them being in one of the neighboring counties to where I live. Plus, I always love the opportunity to ride and hang out with the local mountain bike community. 62 miles is far from my longest mountain bike ride, but it's a still a solid ride. Learn more about the ride here http://mocoepic.com/ and please consider coming out for the ride. If you do, be sure to say hi...
Shenandoah 100 this weekend!

09/02/2011
Good luck to all that are racing Shenandoah 100 this weekend. An all time classic endurance mountain bike race, and the weather is looking perfect. My advice to all racers: Focus on the 3 most important keys to success: 1. Pacing - ride smooth and steady and don't start out too fast. 2. Nutrition - eat small amounts often and drink, drink, drink! 3. Mental toughness - the body can overcome anything if the mind is willing. Oh, and even more important ---- HAVE FUN! Chris.
Shenandoah 100 Training Camp, July 22-24

07/01/2011
Everyone is invited to a 3 day training camp, July 22-24 on the racecourse of Shenandoah 100. I will be in attendance and offering my tips on how to ride the course and anything else people want to know. The entire course is covered over 3 days. There is no better way to prepare for the Shenandoah 100, and it's also great training for any endurance mountain bike race. Find more details and register here: http://www.facebook.com/event.php?eid=243305739016454 See you on the trails! Chris.
Webinar with Infinit Nutrition this Wednesday (June 29th)

06/26/2011
I will be chatting with Mike Folan of Infinit Nutrition on Wednesday evening at 7pm EST and you can join in! Check out the details here: http://bit.ly/isAd0Q and registration here: http://www.infinitnutrition.us/productcart/pc/viewPrd.asp?idproduct=330 We will be discussing racing, training, nutrition, coaching and more. You can listen in and post your own questions live. Should be fun! If you can't make it, you will be able to view later from the Infinit website: http://www.infinitnutrition.us/ and you can always use discount code "Eatough" for special pricing on product from the Infinit website. This is the drink that I recommend to all the athletes I coach.